"

He's a soulful, poetic badass if ever there was one." - Marc Cohn
Randall Bramblett in brief
Esteemed singer-songwriter Randall Bramblett is a multi-instrumentalist musician with a career spanning four decades. The Jesup, Georgia native has been highly sought-after for his creativity as both a collaborator and skilled touring sideman.  His talent has earned him the respect of his peers and many of rock's finest luminaries.  In 1974 he was part of the Gregg Allman Band for his Laid Back album and tour.  In the 1970's he joined Sea Level with Chuck Leavell.  He's shared stages with artists such as Steve Winwood - a 16 year run, Bonnie Raitt, The Allman Brothers Band and Widespread Panic, among others.   He's also a noted songwriter - he penned the title track for the Grammy nominated Blind Boys of Alabama's last album, adding to a long catalog of songs covered by Raitt, Gregg Allman, Bonnie Bramlett, Hot Tuna, Delbert McClinton, Chuck Leavell and more.   
The current exciting news is soul/Motown legend Bettye LaVette released a tribute album, covering 11 of Randall Bramblett's songs on June 16, 2023 on the Jay-Vee label.  Super-producer Steve Jordan brought in Steve Winwood, John Mayer, Jon Batiste, Larry Campbell and more to play on this! 
But it's Bramblett's own career as frontman where his artistry is truly on full display and gives him the most satisfaction.  He's recorded 12 albums for labels Polydor, Capricorn and the last seven for New West Records. Deep into his self-described second act of his solo career, and living in Athens, Georgia, Bramblett's talents are repeatedly praised by musicians, critics, DJs and fans. 
Check out the amazing legends he's played with, written for, and recorded with here!
"You can't do better than Randall Bramblett!"                     -Bonnie Raitt
Randall Bramblett Quotes  (from the stars) 
 "Randall is in my opinion the most gifted & talented southern singer-songwriter musicians of the past several decades." 
  Chuck Leavell (Rolling Stones, Allman Brothers) 
 "Randall is one of Georgia's musical treasures"    Dave Schools – Widespread Panic 
"Randall is the most talented and prolific songwriter I have the privilege of knowing."  Bill Berry (R.E.M.) 
I have always been a big Randall fan, as far back as trying to sign him to my Sounds of the South label in 1973, a scant 40 years ago. But here we both are now and I STILL love what he does, whatever it is..."  Al Kooper 
"He's a soulful, poetic badass if ever there was one."  Marc Cohn
"I think he's the best songwriter I've heard in the past 30 years. Randall's songs are vignettes. They're little movies and pictures"  Bettye LaVette
Quotes (from the press) 
 "One of the South's most lyrical and literate songwriters."  Rolling Stone 
"Randall Bramblett is the William Faulkner of Southern music"  Hittin' the Note 
"See this guy? He's only one of the most original and profoundly satisfying artists around today. Bramblett has fashioned a post-Americana statement of profound proportions."  Mike Greenblatt, Goldmine Magazine 
"He's a marketing person's nightmare, but a real music fan's (and musician's) delight." Thom Jurek - Allmusic 
 "If you've never dug into Randall Bramblett's catalog of solo albums (he's up to nine of 'em), you're missing out, my friend. He may be a super sideman, but Randall Bramblett is a helluva bandleader, too. The end result of all this is a cool album that combines the vibe of a real-as-hell vintage soulman with modern musical ideas." - Brian Robbins, Jambands.com 
Bramblett's songwriting isn't steeped in nostalgia or revivalism.  In fact, for a veteran player, his approach is unflinchingly up-to-date."  - Tony Sclafani, Hittin' the Note 
There's something else going on here — something that has to do with Ray Charles and Steve Forbert and Howlin' Wolf and Stax Records, something that feels more deeply Southern in the sense that it settles into that crossroads moment when genres comingle into a spicy gumbo of emotion. Something that is, ultimately, Bramblett's alone.     Nick DeRiso - Something Else Reviews 
"One thing all Randall Bramblett songs have in common is their emotion. I find it impossible to listen without feeling something.They push, they pull. They ask questions. They insinuate. They make me feel. Something."    Dariel B - Flying Under the Radar 
"Always surprising and impressively inventive, Devil Music is the most original, most authentic album to drop this year and an enjoyable listen."   Blues Rock Review 
"Devil Music" exemplifies more than ever what a significant and important musician we have in Randall Bramblett."   Wildman Steve, The Corner News 
 "It distills the inclinations of a man who may not have been born into the blues but who connects with them on a soul level."  Indy Week 
"Wrap all this up and you have a nasty little delicacy of an album from one of the most prolific and uncompromising Southern voices of our age."  Lexington Herald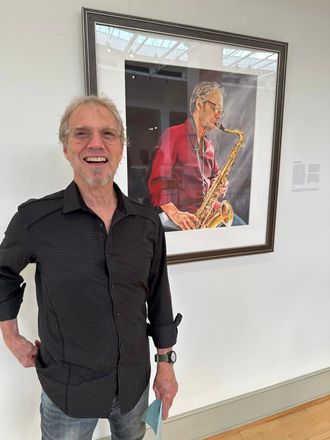 Pine Needle Fire
Press Photos by Ian Mcfarlane
Single from Pine Needle Fire
Video from Pine Needle Fire